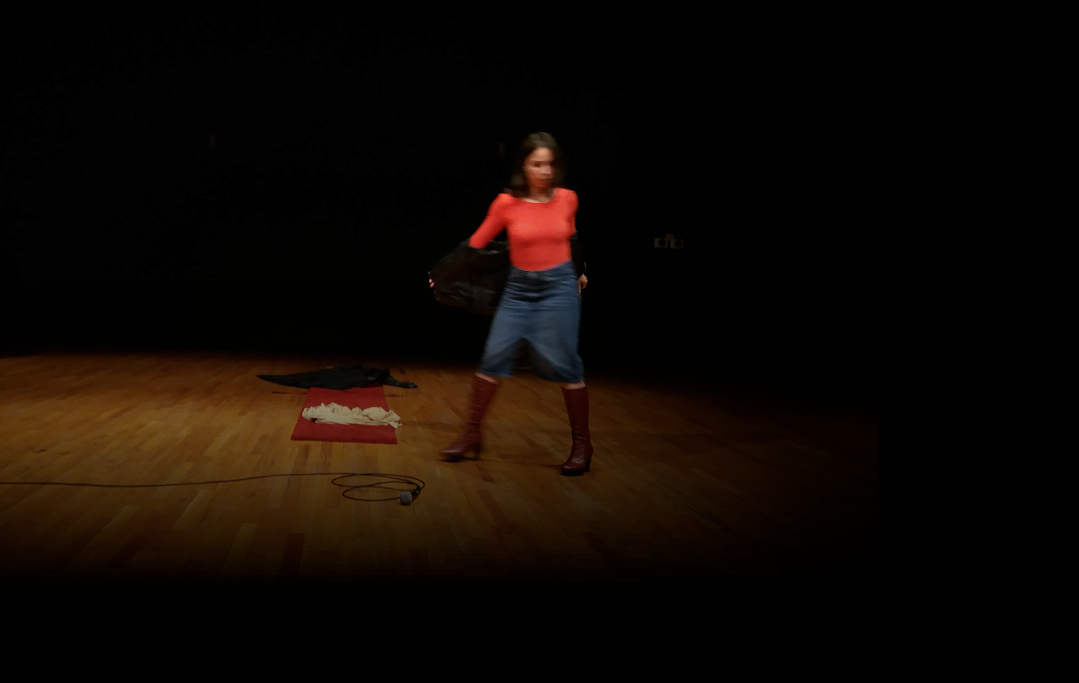 STEREO TIPO COSMO POLITAN
(ITALY/2018)

Choreography: PILAR GALLEGOS
Performer: LUISA AMPRIMO
Videoprojection: NURIA PRIETO
Music: JUST JOSEPH, PETER GARLAND, CHAS SMITH and INGRAM MARSHALL
Light Disign: DANIELA BESTETTI
Photographer: ALESSANDRO RIZZI

WHO ARE OUR NEW GODS?

It's been a while since I started to get the impression that people repeatedly shown in current magazines have become today's replacement of the ancient Greek-Roman gods. Initially classical mythology, through the stories of gods and demigods, offered people values for human and spiritual transcendence. Myths were intended to inspire and instill values in people, as well as to preserve the common good.

Over the centuries and the evolution of customs, the myths have acquired different and varied nuances. From real characters who perform heroic gestures in extreme situations, to contemporary fantasy characters - superheroes, mainly of American origin -; all have in some way filled the collective divide in the psyche of popular culture, as mythology did in its time. Despite the improbability of their origin and the course of their adventures, these gods or heroes reflect the highest aspirations of a society and at the same time, ambiguous feelings towards them.

Although Christianity is apparently the strongest religion established in the West for more than two thousand years, we Christians continue to believe collectively in the pagan gods. Mars and Venus, war and beauty, are still today fundamental parameters for the course of our existence, and not the same as loving one another, as the son of our God preached.

The high-impact publications worldwide, themass media, have a very important impact on our lives through the dissemination of news in the press, television, radio, internet, magazines and other media. They find their success proposing, propagating and preserving these new pagan cults. Through the exploitation and worship of characters ranging from the sublime to the abominable, there is a continuous contrast of these groups that are constantly opposed in the tabloids.

STEREO TIPO COSMO POLITAN

Is a research focused on the female stereotypes promoted in the media. My thesis aims to unveil the emotional behavior bound to the body language of the fashion model: the type of values it transmits, the ideology that spreads, the models of human and spiritual transcendence that it distributes. For my research, I have chosen as the object of study the Italian March 2017 edition of the journal Cosmopolitan, one of the most widely distributed publications in the world.

The working method was centered on the reconstruction of human poses found in this edition, which collects around two hundred thirty images, reproduced in a sequence performed live by a dancer. I wanted to investigate in her the emotions that arose spontaneously from this body language. As woman, I do not identify myself with this image that the mass media propose to today's society. I have deliberately compared the fashion model with the mythological Venus, the Roman goddess of beauty, love and fertility, of a capricious, vain and volitional character. The goddess of women who protects marriages, and is also venerated by sacred prostitutes of the time.





HOMBRE MUJER,
ÁRBOL HIJO LIBRO,
(MEXICO/SPAIN/SLOVENIA/2014)

Choreography: PILAR GALLEGOS
Dancers: ANTONIO QUILES and PILAR GALLEGOS
Videoprojection: ANA PECAR
Music: MARY ELLEN CHILDS, ANTON WEBERN, PIERRE BOULEZ,
MICHAEL JON FINK, READ MILLER and DAVID LANG
Light Disign: DANIELA BESTETTI
Photographies of the Performance: LUCA MICHELUTTI

To create. The action of creating. The creative act. A couple begets a child waiting for a new life that brings illusions, fantasies, fears and conflicts, interspersed with moments of joy. To write. Writing to your own child a book, or read it to him. To cultivate plants, trees, ideas, dreams. To cultivate children.

HOMBRE MUJER, ÁRBOL HIJO LIBRO (MAN WOMAN, TREE CHILD BOOK) born of a popular proverb in the Hispanic world, which says: "A man, to be complete, must plant a tree, have a child and write a book". Often attributed to Cuban poet Jose Marti, this thought is actually an adaptation of a prophetic story of Muhammad, the messenger of Islam, which manifest: "In this life you have to do three things: write a book, plant a tree and have a child". Explains: "The reward for all work done by the human being, ends when he dies, but three things: a continuous alms - for example the tree, protector of shade and fruit giver- , sageness or beneficial knowledge and a pious son who prays for him when he dies". Teaching is related to the belief of Judgment Day, a religious vision of the end of the world in which the final destination of each for eternity is decided.

Our world is changing rapidly, forecasts are pessimistic, nature is in frank devastation and 2070 worrying shortages are anticipated. It is important to be aware that our generation is not the only culprit of all this catastrophe. The current lifestyle is a result of the Industrial Revolution, which began in Europe during the second half of the eighteenth century and has been spread virtually all countries.

This choreographic work aims at fostering human awareness towards nature, promote the development of a better relationship with the planet, bringing new ideas to solve problems, join the many currents of thought from sources of knowledge diverse that today coincide the relevance of this approach. This would entail understand that we can minimize our need for material consumption. The highest spiritual thoughts further demonstrate that true peace is a modest and austere life, the source of wealth and happiness arise from compassion and love. The human being is by nature social and active contributor, developer and sometimes receiver. It carries out actions to live, contribute and collaborate. This means promoting thinking styles.

Planting a tree, having a child and writing a book. The three actions speak of how plant and harvest seeds, values, feelings, a succession of events that lead growth. Forms of civilizational transformation. Examples of footprints that humans leave a legacy for generations to come. There are plenty of ways to trace, everyone can decide themselves.

Trees, children or books are not only fulfilled objectives, may also be the beginning of a new way of inhabiting the Earth.

Acknowledgements:

This project has been possible thanks to financial support of the Fund for the Iberoamerican Performing Arts IBERESCENA (Spain-Mexico) in the call for Choreographic Creation Processes in Residence (2013-2014). In residence of creation and production at centre Plesna Izba Maribor (Slovenia).



TRANSMUTATION

(MEXICO/ITALY/2013)

Choreography: PILAR GALLEGOS
Dancers: LUISA AMPRIMO, MARIA AUGUSTA CHIZZOLA,
GIOVANNI LEONARDUZZI, MARCO PIELICH and JESSICA VIDUSSO
Music: AELAB and JETONE
Musical Editing: RICARDO CORTÉS
Light Disign: DANIELA BESTETTI
Costume: ILVA BARACETTI and PILAR GALLEGOS
Photographies of the Performance: LUCA MICHELUTTI

The history of men is defined by the constant search for something deeper in life. In addition to seeking the survival of the physical body through providing food, shelter and clothing, since the primitive to the present day, there has been always the desire to look into the depths of the soul, trying to understand the purpose that have over our existences. This instinct, primal impulse, it gives us still the chance to evolve as a civilization.

Transmutation is the constant transformation of a chemical element into another simple body. This dance project proposes to perceive the human in this way, as an element-entity that is continuously converted into another, in the other, in itself once again transformed.

The human experience understood as one, that simply modifies and travels in the same way in each of us. Verifies in essence, that all beings we experience the same vibrations, sensations, excitement, stimulation and excitement. Humanity is in a constant change, our bodies are a laboratory of mutation, constantly transmuting.

Acknowledgements:

This project has been possible thanks to the support of the National Fund for Culture and the Arts FONCA (Mexico), through the National System of Creators of Art (2010-2013) and the dance company Arearea (Italy), in residence of creation and production at its headquarters Lo Studio.





UNA TRIBU,
ESO ES LO QUE SOY
(MÉXICO/2012)

Dramaturgy: JAN FABRE
Choreography and Direction: PILAR GALLEGOS
Performer: LORENA GLINZ
Music: RICARDO CORTÉS
Costumes: ADELA CORTÁZAR
Scenography: ROSALBA GARCÍA
Photography: ANDREA LÓPEZ
Translation in Spanish: MARIETTA SANTI

UNA TRIBU, ESO ES LO QUE SOY (A TRIBE, THAT'S WHAT I AM) one-person dance-theater piece inspired by the life and work of Antonin Artaud.

The work is the manifest of a spirit who commute in different entities and that blasphemy against God and the world. A body, a laboratory of chemical transmutations coated with skin, in the research to make sense and a way out to his thoughts, visions and premonitions.

The character undergoes a series of metamorphoses concatenated: from psychiatric patient in old dog, a shaman in tragic actor, a white indian in prophet, in sage, priest, and finally soul. The tone is excessive and often painful, but succumbs into a luminous end that spreads faith towards the future.

In Fabre's work the body is a vehicle for transmitting discourses, experimental subject of life, death, initiation. Animality coexists with reason, in a constant search for complementarity and mutual analysis.

A tribe,
that's what I am.
That strange "I", which no civilization
has never been able to contain.

I will not dwell
layer by layer
peeling the skin of my soul
until all that remains is the spherical ossification
of a single thought.

Together we have
the dream of a mentally petrification.
A thought that can be deployed against itself.
One problem.
One sphere.
One globe.
One celestial body.
One protruding mass.
One spherical ossification for show restraint.
To find other sources
and contact
with a new reality.
Allow encounters
of a more subtle and more rare nature.
Dating to heal the wounds in our hearts
caused by the wars in our mind.

The revolution will be mental or may not be.

Acknowledgements:

This project was made possible by the support of Fondo Nacional para la Cultura y las Artes FONCA through the Sistema Nacional de Creadores de Arte and to the Universidad Nacional Autónoma de México UNAM through the Centro Universitario de Teatro and Departamento de Difución Cultural. Special thanks to Jan Fabre and Miet Martens in Belgium, to Marietta Santi in Chile and to Mario Espinosa Ricalde in Mexico.

MI CUERPO ES MI CASA
(MEXICO/SPAIN/ITALY/2011)

Choreography and Performance: PILAR GALLEGOS
Interactivity and Multimedia: NURIA PRIETO
Original Music: GABRIEL ACEVEDO e ROGELIO SOSA
Light Disign: DAVID PÉREZ
Photographies of the Performance: LUCA MICHELUTTI

On a field of roads, rivers and houses, three days ago we were hitted by an earthquake. Now we are ruins, spare parts of wall: amorphous stones in a warm spring afternoon. I have no choice but to dwell in silence and think about the plan to redraw everything again, this time improving the shelter: protect me from rain, sun, soil moisture and wind, because against earthquakes I can't do anything! Floors, steps, walls and visions. Which will be my direction? What color paint the outside of my skin? Windows should be put into the pores, uncovering new senses. Words: keys to open another doors in the room of the heart. Corridors with floors of blood and adrenaline. I will also build a bridge towards the rooms from the entrance of the internal garden. Slowly, I am working for making livable this home: my own body.

Pilar Gallegos

The body, territory we inhabit: unique belonging. Site of all lived experiences, accumulated memory container. History and heritage. Vehicle. Individual, culture and home.

MI CUERPO ES MI CASA (My body is my home) is a solo choreographical piece. It is a dance with the juxtaposition of dance, video and narrative poetry, that explores and constructs analogies, metaphors and derivations between the human body and architecture, between humans and their environment.

The choreography is divided into three scenes: Human Columns, the city that fades after the earthquake; Inner Journey, the awakening of the finer senses, the restoration of oneself; and, Body Earth, our bodies existing in a single household, a place in the Universe.

This piece wishes to express a contemporary ritual that sensitizes our conncection with the bodies we inhabil in relation to the planet on which we live.

Acknowledgements:

This project has been possible thanks to the support of the National Fund for Culture and the Arts FONCA (Mexico), through the National System of Creators of Art (2010-2013); to the Fund for the Iberoamerican Performing Arts IBERESCENA (Spain-Mexico) in the call for Choreographic Creation Processes in Residence (2010-2011); to the Arts Residency Grant at the Center for Performing Arts Resource Management "La Nave del Duende" (Spain); to the Residency Program Low Cost in Leggere Strutture Factory (Italy); and, to the Production Residency from Tec-Art-Eco (Italy).

SIN TÍTULO
(MEXICO/2007)

Choreography and Performance: PILAR GALLEGOS
Original Music: GABRIEL ACEVEDO
Costumes: JUNIOR PAULINO
Light Design and Direction Assistance: ROSALBA GARCÍA
Scenography: ROZANA MONTIEL
Maniqui Head: SAÚL VILLA
Electronics: ARCÁNGEL CONSTANTINI
Video: DANTE BUSQUETS
Edition: FERNANDO LLANOS
Post-Production: LUIS MORALES
Character Psicoanalist: ROSALBA GARCÍA
Characters Phantoms: MIGUEL NIETO, ROSALBA GARCÍA,
JUNIOR PAULINO and DIANA LEIN
Photographies of the Performance: JOSÉ JORGE CARREÓN

A woman passes along the fragility, the softness and the minimum of her own thoughts.

Sin Título (Untitled) portray the dream that she relates to her psychoanalyst, during an analysis session:
"It was at afternoon.
I was in a citty where I use to live.
I was driving back home.
Without thinking I took another road".


From here the transformation of a tree into a woman, who encounters with her self-portrait, confronting presence of shadows and apparition of ghosts.

A fear that unties her animal instinct of survival.

An internal universe which provide evidence of the secret souls living into the things.

Acknowledgements:

This project was made possible thanks to financial support from the National Fund for Culture and Arts FONCA (Mexico), through their programs Development Projects and Cultural Co-investments 2006-2007 and Young Creators 2005-2006.

EMOCIÓN PLÁSTICA
(MEXICO/CANADA/2002)

Choreography and Performance: PILAR GALLEGOS
Original Music: GABRIEL ACEVEDO and ROGELIO SOSA
Costumes: ADELA CORTÁZAR
Light Design and Scenography: PILAR GALLEGOS
Photographies of the Performance: JOSÉ JORGE CARREÓN
Videoperformance for four televisions and a dancer, Emoción Plástica (Plastic Emotion) addresses the topics of loneliness and depression as axes of a contemporary discourse common to many young generations of nowadays.
The images on the monitors are a tissue between real present and the imaginary one, between the cruel recent past and present hopeless nightmares, between a terrible present and a promising future.

Acknowledgements:

This project was made possible by the Grant for Artistic Residencies Exchanges Mexico-Canada (2002) awarded by the National Fund for Culture and Arts FONCA (Mexico) and The Banff Centre (Canada).